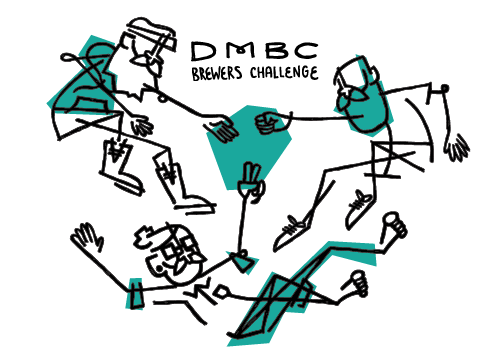 What do three brewers do when they each have great ideas for a fresh summer beer? They make a competition! Welcome to the DM Brewers Challenge: Three of our brewers each secretly brewed their own recipe, and it's up to you to decide which is the best. This is a race to the bottom of the tank! First beer to kick will be deemed winner. Sample all 3 and then vote by drinking a pint or 2 of your favorite to help kick the tank! You can also root for your favorite beer via its hashtag! Let the drinking games begin! #DMBREWERSCHALLENGE
The Brewers Challenge Beers –
Citron Witbier –
#TEAMCITRONWIT
Vermont Maple Golden Ale –
#TEAMMAPLEALE
This Thursday, July 27th, we are kicking off our Brewer's Challenge with a TAKE THE PINT HOME night. We had some super sweet glasses made just for this challenge. You can buy a "TAKE THE PINT" and one of the brewer's challenge beers for $10. Otherwise the challenge beers will be $6 a pint and glasses will be sold individually for $7. Take the pint home will go until the beer is gone or we run out of glasses – which ever comes first!
Beer will also be available to go in a 3-pack crowler set with a tasting card! Buy all 3 for $25. Individual crowlers are available at $9 each. Tasting cards will also be available in the taproom so you can create your own little flight and sample all 3.
CHEERS & HAPPY DRINKING! MAY THE BEST BEER WIN!